by Bob Picard
1 Corinthians 12:1-2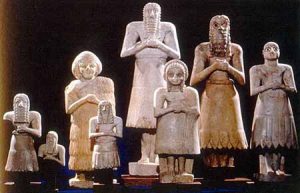 Now concerning spiritual gifts, brethren, I would not have you ignorant. Ye know that ye were Gentiles, carried away unto these dumb idols, even as ye were led. – 1 Corinthians 12:1-2
IT REALLY MATTERS WHAT OR WHOM YOU ARE LED BY
In addressing the Corinthian Church, which was made of of primarily converts from pagan religions, Paul had to continually remind them of the absolute completeness of their salvation being a free gift of God, given them on the merits of the Cross of Jesus Christ.
These can be some of the most dangerous words used today – "as you were led."
They were led by the wrong leaders.  It is tragically true today, as well.
For I determined not to know any thing among you, save Jesus Christ, and him crucified. – 1 Corinthians 2:2
The problem with the paganism of that day, still rears its ugly head in society, as well as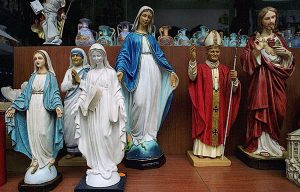 the "church," even today.  No longer is the orderly teaching of God's Holy Word the prime influence, and motivator, for the Christian.
Instead, the following words are used (just as in Corinth):  "even as ye were led." 1 Corinthians 12:2.  Just as the pagans were led by the god of their choice, the arbitrator of truth for many a believer Is how are you led!
Christians are led today, not by the revealed, written Word of God, but by their emotions,
feelings, opinion of others, and popular fiction.  We have glorified the teachings of others over and above Scripture.
In paganism one had a smorgasbord of deities to choose from;  whatever fulfilled your needs! Of course, we know that man is sinful, and desires all that is not good, nor Godly. Today's "church" has likewise offered up a smorgasbord of doctrine; some Truth, and much false.  One can pick and choose whatever fits his fancy.
Unfortunately, without the finished work of Jesus Christ at Calvary, all is vain.
THE ONLY REAL NEED OF MANKIND IS TO BE FORGIVEN FROM THEIR SIN!
We have a Bible with a solitary message to mankind.  That message is that mankind is fallen.  Each and every person is a sinner, separated from God.  The religions of yesteryear and today all focus on the smorgasbord of self satisfaction in order to feel good about one's self, or to find favor with God through a system.  This is all bad news!
The Good News is that mankind can indeed be reconciled to God!
What, or who, is the source of reconciliation?
For God so loved the world, that he gave his only begotten Son, that whosoever believeth in him should not perish, but have everlasting life. -John 3:16
Wherefore henceforth know we no man after the flesh: yea, though we have known Christ after the flesh, yet now henceforth know we him no more. Theref
ore if any man be in Christ, he is a new creature: old things are passed away; behold, all things are become new. And all things are of God, who hath reconciled us to himself by Jesus Christ, and hath given to us the ministry of reconciliation; To wit, that God was in Christ, reconciling the world unto himself, not imputing their trespasses unto them; and hath committed unto us the word of reconciliation. Now then we are ambassadors for Christ, as though God did beseech you by us: we pray you in Christ's stead, be ye reconciled to God. For he hath made him to be sin for us, who knew no sin; that we might be made the righteousness of God in him. – 2 Corinthians 5:16-21
How can a person be reconciled with God?  The answer is, "The Gospel!"  What is "The Gospel?"
Moreover, brethren, I declare unto you the gospel which I preached unto you, which also ye have received, and wherein ye stand; By which also ye are saved, if ye keep in memory what I preached unto you, unless ye have believed in vain. For I delivered unto you first of all that which I also received, how that Christ died for our sins according to the scriptures; And that he was buried, and that he rose again the third day according to the scriptures: And that he was seen of Cephas, then of the twelve: After that, he was seen of above five hundred brethren at once; of whom the greater part remain unto this present, but some are fallen asleep. After that, he was seen of James; then of all the apostles. And last of all he was seen of me also, as of one born out of due time. For I am the least of the apostles, that am not meet to be called an apostle, because I persecuted the church of God. But by the grace of God I am what I am: and his grace which was bestowed upon me was not in vain; but I laboured more abundantly than they all: yet not I, but the grace of God which was with me. Therefore whether it were I or they, so we preach, and so ye believed. – 1 Corinthians 15:1-11
Salvation, or reconciliation, with God comes only from believing "the Gospel."  Man could not do anything to merit God's favor, because of our sinfulness.  Yet, Jesus Christ became flesh, lived a perfect life, and went to the Cross to pay for our transgressions.
Praise the Lord for that.  You must repent fromanything else you think, or believe, and trust what He has done!  
For the Christian:  So many people believe so many things about Christianity. Basically, Christianity IS Jesus Christ!  Paul's epistle to the church at Colossae says this to you:

As ye have therefore received Christ Jesus the Lord, so walk ye in him: Rooted and built up in him, and stablished in the faith, as ye have been taught, abounding therein with thanksgiving. – Colossians 2:6-7
A person is saved by Grace through Faith.  He is also sanctified by Grace through Faith, as well.
Keep your eyes on Jesus, rather than any work of righteousness, or any other source for life.  He is sufficient!
INSTEAD OF BEING LED BY ANY WORK OF MAN, INCLUDING YOUR OWN, BE LED BY THE WORD OF GOD!