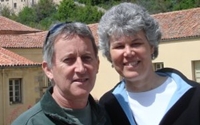 Jane and Walter Mutti from "Reaching Your Neighbors For Christ Ministries" will be with us on Sunday, April 6th during our 10:00 AM Service.  Please join us for this most encouraging time in sharing the Good News in our local mission field.
Jane and Walter Mutti have been serving the Lord for most of their married lives.  Their first exposure to missions began with short term trips to Ireland and France.  Driven by a passion to serve God full-time, they began four years of extensive training with New Tribes Mission.  In 1991 W
alter was ordained to the work of the gospel ministry.  One year later, God directed them to Venezuela, South America, where they ministered with New Tribes for 20 years.
They feel very blessed for the opportunity God gave them to serve Him in Venezuela.  Jane and Walter assisted in a number of ministries, from support work in the cities to tribal church planting with the Maquiritare Indians in the Amazon jungle.  During their time overseas, God gave them the privilege to be a part of the unreached with the gospel of Jesus Christ.
What a joy it was to see individuals from isolated people groups become children of God with renewed hope and eternal life.  Likewise, during their furloughs in the United States, they saw God provide opportunities to evangelize and make disciples that are making disciples in their own "back yard."  God's Word is true, "the harvest truly is plentiful."
In 2007 God moved the Muttis back to New England due to political unrest in Venezuela.  After seeking God for new direction in ministry, God made it plain to
them through many counsellors to stay focused on personal evangelism and discipleship.
Walter has a passion to help the local church by encouraging them to fulfill the great commission through teaching from the pulpit or through conferences on evangelism and discipleship.
And the things that you have heard from me among many witnesses, commit these to faithful men who will be able to teach others also.  – 2 Timothy 2:2
While retaining their passion for worldwide evangelism, God has redirected them to serve in the United States.
Their 2 fold plan is:
EVANGELISM
Being led by the Holy Spirit to communicate the Gospel clearly so that God can reach the heart of the person.  Mark 16:15

EQUIPPING
Discipling believers so that they will be a full functioning member in their local church body using the gifts that God has given them for the building of the body.  Our ultimate goal is to raise up disciples to fulfill the Great Commission to reach the world for Christ.                   Matthew 28:19
They Desire to Serve
Jane and Walter are available to serve in many different ways.  If you need a guest speaker for your bible study, growth group, church, school or function please let them know.  It is their desire to be used by God for His glory.
They are both natives of Massachusetts and currently reside in Berlin.  They can be reached by mail, phone or email:
Jane and Walter Mutti
63 Carter St.
Berlin, MA  01503
(978) 838-2342 (home)
(978) 875-2995 (cell)
waltandjane@gmail.com