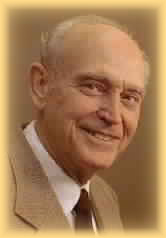 Dr. Delma O. Lowery of Newton, Illinois, will conduct a six day Bible Conference featuring expository studies of the Biblical texts of 1 Peter, Philemon and Jude, April 28th through May 5th at God's Grace Bible Church, 315 West Main St. in Millbury.
The Conference begins Sunday, April 28th  at 10:00 AM, with a break for lunch at 11:30 AM, with a second session beginning at 1:30 PM.  The conference will continue nightly with through Friday.  The evening sessions are scheduled for 7:00. Each session will be held for about one and a half hours.  The conference ends on May 5th with 10:00 AM and 1:30 PM sessions, with a break in between.Dr. Lowery, who has been in the ministry since 1957, taught Bible and Psychology at Memphis Baptist College, served as Dean of Men and Bible Instructor at Trinity College in Dunedin, Florida; was listed in Who's Who in the World of Religion in 1985; and for eight years taught Bible Exposition and Theology as a guest instructor in the Summer Graduate Program at Pensacola Christian College in Pensacola, Florida; he also taught as a guest instructor at the Southland Bible Institute in Ashland, Kentucky; and, for fifteen years conducted seminars on Bible Exposition at the Expositor's Bible Center in Newton, Illinois. He is the author of articles for newspapers and Christian periodicals in addition to his book, Building Steadfast Christians, which is now in its third printing, and has also written a booklet on "How I Defeated Prostrate Cancer," which was done with natural means. He has also produced DVDs on which he expounds various books of the Bible.
Having ministered as a Pastor, writer, educator, and Bible Expositor, Dr. Lowery has traveled in 48 states, 9 provinces of Canada, Jamaica, and Mexico, teaching various books of the Bible and related subjects.
For further information call 774-276-9002 or visit on the web at http://www.godsgracebc.org