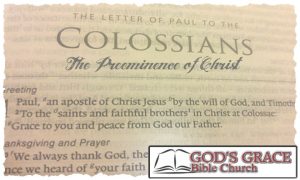 The village of Colossae, in Asia, Minor was often in the shadow of the larger cities of the area.  Ephesus had become the chief city of the area.  Where once Colossae had been a major transportation center between the Mediterranean Sea and the East, it had been supplanted by the more efficient shipping industry, brought in by the Romans.
Yet, this seemingly insignificant village had significant spiritual issues.
Paul's epistle to the Colossians serves as a testimony about the Supremecy and Preeminence of Christ Jesus.  This serves as the counter to rampant abuse by those promulgating various false doctrines including worldly philosophy, legalism, mysticism and asceticism.
As in the days of the Colossian church, the modern church has followed the same path. Where Christ was once exalted above all things, He has been relegated to the "back pew" of the Church.
When we look to the testimony of the Apostle Paul, we see the solution is to get back to the Word of God as the only source of theology, rather than the many ways that are currently popular.
The following admonition for Paul is the answer:
If ye then be risen with Christ, seek those things which are above, where Christ sitteth on the right hand of God. Set your affection on things above, not on things on the earth. For ye are dead, and your life is hid with Christ in God. When Christ, who is our life, shall appear, then shall ye also appear with him in glory. – Colossians 3:1-4